Art Book Julien Delval Othello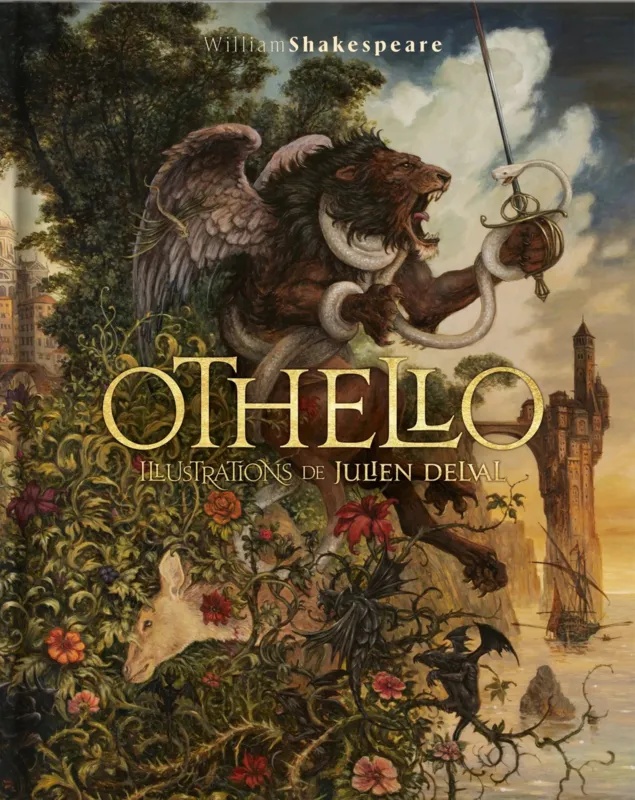 Art Book Julien Delval Othello
A truly timeless classic from English literature, Othello has influenced many authors and artists throughout the years.
Amongst the most notable adaptations are the renowned opera by Verdi, still frequently played nowadays, as well as many movies, like the eponymous adaptation from Oliver Parker, Othello, starring Laurene Fishburn and Kenneth Branagh in 1995.
Authors such as Agatha Christie or Honoré de Balzac are known to have drawn inspiration from some of the play's main characters, mainly the manipulative Iago. The very passionate and romantic atmosphere of the story makes it a perfect inspiration for painters as well, with its most famous representation being from Eugène Delacroix, who painted Othello et Desdémone between 1847 and 1849. Of course, as a painter, Julien couldn't miss this opportunity to illustrate his own vision of this story.
A word about the project:
After the success of his Monograph, Julien Delval & Caurette Editions are delighted to present this new project, a magnificent illustrated version of Othello, one of William Shakespeare's most emblematic tragedies. Julien's talent combined to Franck Achard's graphic miracles have turned this project into a gorgeous book, which will be available in two languages and two versions, a standard one and a deluxe one!
About Julien:
After studying fine art, he began as an illustrator for role-playing company Multisim. One the most famous games he illustrated (among others) is the famous Ticket to Ride! After realizing numerous bookcovers for different publishing houses, he now mostly focus on more personal works, supported by the Galerie Maghen in Paris. The scenes he creates are taken from ancient worlds, mythology and fantasy settings inspired by classical painting and imagery of the 20th century.